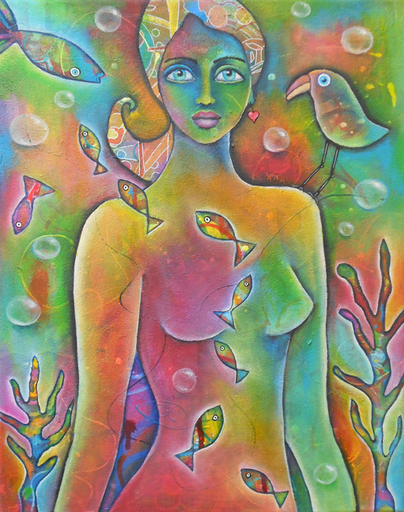 Painting is my passion. It gives me energy and makes me happy. I started it in 2004, and I've been addicted since. I like different styles, characteristic are the abundant colours and the presence of human beings and birds. In addition I like to use the technique of the Aboriginals in Australia for my dotpaintings.
A second passion of mine is poetry. I like to combine it with painting, by using fragments of my paintings with a suitable text or poem, and making postcards out of it. I also paint wooden boxes and rocks, because I like to turn everyday items into colorful and special objects. Mosaics are another artform I love experimenting with.
With my art I like to bring some colour into this often very grey country: the grey skies, grey buildings, grey cars ... are sometimes getting on my nerves. Those moments I tend to dive into my paints and let the colours make me happy.
I have lived in Australia for the past few years and have set up a new website at www.denthe.com. You can also find new and in-progress-works on my blog www.denthe.blogspot.com, and you can follow me on Facebook www.facebook.com/dentheART